Go to home page of
Ice Sculpture World
Go to home page of the Academy of Ice Carving and Design
Intro
..
Theme / Company Parties
...
Weddings
..
Services/Pricing
..
Client's Say...
Ice Sculptures for
Theme and Company Parties


With 30 years of ice carving experience, Paul Germain offers
the creative expertise to design, carve, transport, and display
the most dramatic and appropriate ice sculptures for your needs.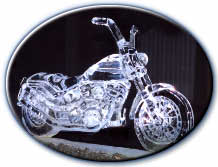 Have Paul create the perfect attraction for your special event
or choose from thousands of ice sculpture themes and designs.

Buffet centerpieces, dance floor enhancements, company logos,
giant tradeshow displays, and fully functional beverage bars with luges
are just a few of Paul's most sought-after ice creations!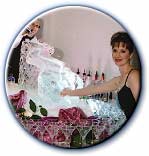 "Our guests loved taking photos in front
of your glistening masterpiece!"
For the ultimate ice sculpture attraction, Ice Sculpture World also provides state-of-the-art enhancements and special effects such as mid-air suspension, rotation, pyro-technics, lasers, hi-tech DMX colored lighting, fog, and evaporative snow flurries. We can make your display of ice carvings as exciting as the Northern Lights.



We can also arrange incredible promotional attractions in ice such as fully-furnished, refrigerated lounges (complete with handcarved ice walls, ice floors, ice furniture and ice bars) and giant displays for tourist destinations, tradeshows, and conventions. These attractions are an amazing way for your corporation or city to generate huge publicity and revenues from tourism.



Next Page

Intro.. Theme / Company Parties...Weddings ..Services/Pricing ..Client's Say...





We are happy to recommend the
following companies in Fresno:

Banquet Facilities
Caterers
Florists
Wedding Services

Home Page
Top Fresno Banquet Facilities, Caterers, and Florists
Wedding Services